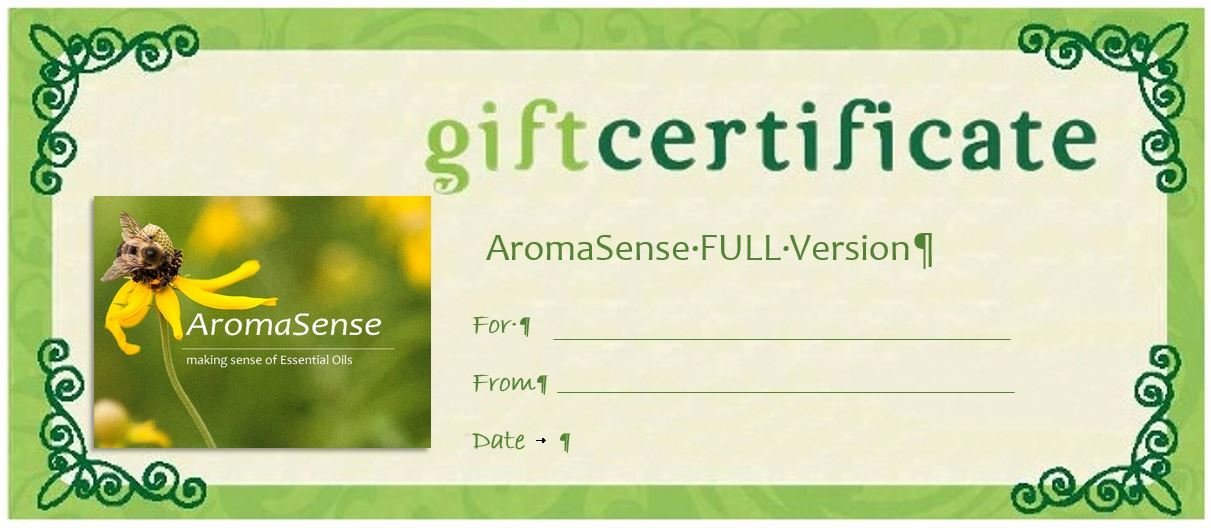 AromaSense FULL Version GIFT
SKU 00006
Product Details
Purchase this product if you would like to gift AromaSense to someone! You will receive a gift certificate sent to the email you provide during checkout which you or the recipient fill out electronically and email to quasimom@outlook.com when ready to setup the new AromaSense Base with the recipient's information! Easy as 1-2-3!
Please read the following carefully before completing your purchase.

CONDITIONS OF USE •Your purchase of AromaSense is for a SINGLE user and is not to be given or shared with any other party or parties.
•You may modify AromaSense to meet your own individual needs. However, you may NOT modify the application, then share it, or sell it to other parties.
•By purchasing AromaSense you indicate that you will adhere to the above conditions.
Selecting this product gives you complete access to AromaSense to customize it completely to suit your own needs. You can edit the existing data or create our own. You will have full control to do as you like with your copy.
Once your purchase is complete, you will be emailed instructions along with a password which you will use to access AromaSense and create your own customized copy of the data.
Following the purchase, an email is sent that includes the install instructions AND the password required for the website.
The time between purchase and the email can be anywhere from 10 minutes to 24 hours depending on time of day. Please remember this is a small business and allow at least 24 hours for delivery of the installation email.
Initial installation is much easier if you are on a computer or laptop.
Remember to install Airtable on your mobile devices to access AromaSense from those mobile devices.
Support for AromaSense is through AromaSense and
quasimom@outlook.com
and not through Airtable Support.
DISCLAIMER:
The developers of this software application are not aromatherapists nor doctors. The data within this application should not replace medical advise. Please go to a doctor if you have any medical issues. While we have taken every effort to provide accurate information within this application and have researched thoroughly, it is still your responsibility to research each oil and determine if it is the right oil for you. If you have allergies to any of the plants, please do not use the oils from those plants. If you have children, please take the time to make sure the oils are kid safe for the age(s) of your child(ren). If you are pregnant or breastfeeding, please research oils that are safe to use during this time in your life. If you are on medications, please take time to research each oil to see if there are restrictions for the medications you are on. If you have special medical conditions, it is your responsibility to research the oils that may affect your condition. AromaSense takes no responsibility for any inaccuracies in the data and holds you solely responsible if you choose to use the oils.
By downloading this app, you understand that you are accepting sole responsibility to use the application, that do not hold Lynnette Crouse, AromaSense, any of the contributers, or any of the contents of this app responsible for what happens as a result of your use of essential oils.
References
Tisserand, Robert and Rodney Young, Essential Oil Safety, 2nd Ed., foreword by Elizabeth M. Williamson, Churchill Livingstone Elsevier: 2014.
Battaglia, Salvatore, The Complete Guide to Aromatherapy, 2nd Ed., The International Centre of Holistic Aromatherapy: 2014.
Mojay, Gabriel, Aromatherapy for Healing the Spirit. foreword by Robert Tisserand, Healing Arts Press: 1997.
Purchon, Nerys and Lora Cantele, The Complete Aromatherapy & Essential Oils Handbook, Robert Rose, Inc: 2014.
"Nature's Gift," website @ http://www.naturesgift.com, retrieved June 24, 2016
."Stillpoint Aromatics," website @ http://www.stillpointaromatics.com, retrieved June 26, 2016.
"Plant Therapy," website @ http://www.planttherapy.com retrieved June 21, 2016.
Save this product for later